[INFOGRAPHIC] 6 Must-Experience Adventure Trips Abroad
[INFOGRAPHIC] 6 Must-Experience Adventure Trips Abroad
by - Published March 13
It happens to the best of us. You're sitting at your desk and your mind starts to wander, then all of a sudden you're booking flights across the world and packing up your backpack. We all get itchy feet from time to time. It's best to fully give into our adventurous spirit. That way no one gets hurt.
How do you combat acute adventure-itis? Well, the only cure is to embark on adventure trips around the world. Opt outside. Make sure your hiking boots have been properly mudded up this month, their sole needs it just as much as yours does.
This handy dandy infographic lays out the six best adventure trips abroad to cure those itchy feet and distracting daydreams. But, first…
Things to consider when choosing adventure trips abroad
Even famed adventurer Ranulph Fiennes (Google him, he's rad.) had to think all of these things before traveling to both the North and South poles, so you should think them, too.
Activity level. You're amazing. The human body is amazing. It can do amazing things. And yes, you can do anything you set your mind to, but you should also be realistic what you can and should be doing. Different adventure trips around the world offer activities at varying degrees of difficulty, and your safety is priority numero uno. If you've never been hiking before...Everest is not where you should start.

The adrenaline factor. Are you looking to hear the ca-thunk ca-thunk of your blood pumping in your ears as you… jump off the side of a mountain or something? Cool. Yoga retreats abroad are not for you. Are you not interested in putting yourself into danger for the sake of the Instagram story? Namaste. Look for lower-key adventure trips abroad. We don't all need to be Bear Grylls to enjoy a nice day in the sun, ya dig?

Overall cost of the trip. This is a given. You can ball on a budget with adventure trips abroad, or you can go all out and go glamping—or whatever it's called when you're not really camping. You also need to factor in the cost of your gear. Will your trip include things like renting climbing shoes and other necessary equipment? Do you have your own gear? Will that help cut costs? All things to have a think on.


Popular adventure trips abroad—what are you even waiting for?
Itchy feet of the metaphorical variety? Check. (If you have actual itchy feet, get that sorted.)
Nalgene? Check, check.
One of those quick-dry towels that pack really small? Check, check, check.
Cool. You're ready to go. So what are you waiting for? Check out these six legit adventure trips abroad and go find the adventure travel program that answers your call of the wild.
1. Backpacking excursions for you mountain men and women

If the only things you love more than your muddy old hiking boots are your carbon fiber trekking poles and frame-pack, backpacking group trips abroad are exactly what you've been looking for. Trekking across the Swiss alps? Yes please! Staring in awe at the Himalayas in Nepal? Sounds like a dream to me!
The activity level, adrenaline factor, and cost are all easily grade-able. For the most part you'll be looking at long days and a lot of elevation gain, so you'll want to be in shape. But, if you're looking for something a little more scenic and a little less "I'm going to pass out from lack of oxygen" there are options out there. Again, Everest might not be where you start (but Annapurna is equally cool).
Walking along trails might not be the most adrenaline-pumping thing you can do, but again, there are degrees of difficulty and bad-assery when it comes to backpacking group trips abroad. And you can opt to hostel or trail hut hop if you're backpacking on a budget. There are some backpacking group trips that go ALL OUT though. We're talking, tracking mud into four and five star hotels…
2. Rock climbing trips for you chalk-covered dirtbags

SEND IT, BRUH. In fact, send it all the way across the world. Whether you're clipping in to top out a 5.10 in the Dolomites or you've got your crash pad ready to solve a V8 (no, not the tomato juice…), there are like-minded climbers looking for a multi-pitch to run beta with you on rock climbing trips abroad.
Even for beginners, outdoor climbing will take a lot out of you. It's not for the faint of heart—or anyone even sort of afraid of heights. If you don't like heights, sit this adventure out. It really gets the adrenaline pumping when you spend the afternoon working on a caving problem and finally get it. Even if you have all your personal gear, rock climbing trips can cost a pretty penny. You'll definitely want experienced guides with good ropes, hardware, and crash pads (for you boulder-ers), and that won't be cheap—nor should it be. You're priceless, so stay safe!
3. Photography trips abroad for you shutterflies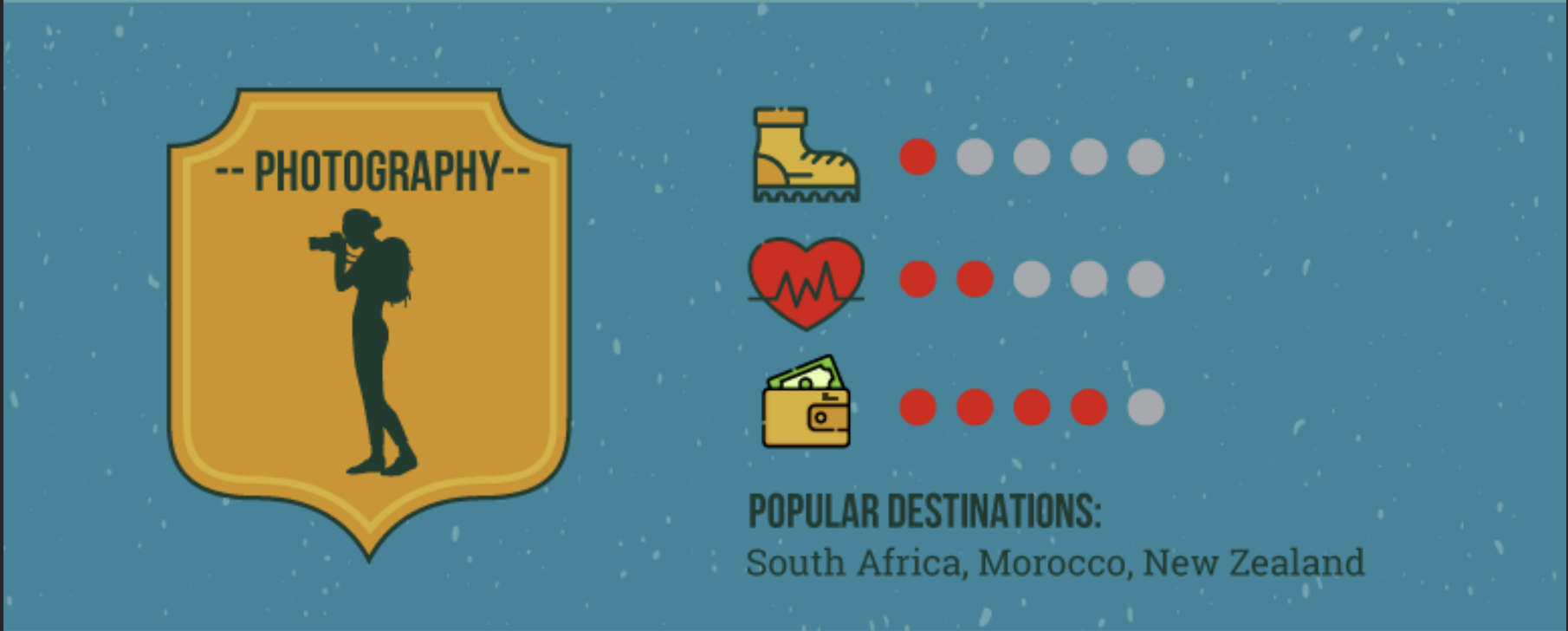 You shooting film or digital? What glass do you use? Aperture. Shutter speed. More photography lingo. Yeah. Nice shot! If you're less interested in adrenaline and more interested in framing up the perfect postcard or getting a once-in-a-lifetime telephoto shot of a lion hunting, photography trips abroad are right up your alley. Who knows, maybe you're the next Ariana Lindquist!?
You probably won't be doing anything too crazy to get the right shot, so this is a great option for travelers of all fitness levels with a choice to opt in to more adrenaline-spiking photography expeditions. But, you can still expect to pay a pretty penny. Especially if you need to get gear, new lenses, extra memory cards, and tripods. But, totally worth it to have the best holiday card this year, right?
4. Surfing holidays for you wave riders

Hang 10! Nice cutback. Sweet board. Wax on, wax off. I might be mixing surfing metaphors here, but you're cool either way, right? Cool. If you're looking to shred some truly gnarly waves you've gotta start looking for surfing holidays abroad. Whether it's along the coast in Australia, finding world-class waves in Indonesia, or hitting all the famous boardwalks after a morning surfing in the U.S.— you will shred. Just maybe don't go during Shark Week (that's how that works, right?).
You can certainly go on surfing holidays abroad in order to learn how to surf, but either way you're in for an adrenaline-pumping workout! Flights to the best surf spots tend to be on the pricey side, and whether you have to rent a board or pay to fly with your own, you can expect to pay a pretty penny. But, there are always ways to coast on a budget.
5. Yoga retreats abroad for you yogis and Lululemon-ites alike

When life starts to feel like a big ol' downward dog, take the time to slip into your favorite yoga pants, roll out your mat, center your breathing, and give a nice sun salutation—then, move your hands to keyboard/heart center and start searching for yoga retreats abroad. Get to the roots of yoga and your own mind and body with yoga retreats abroad in India or Indonesia. There are also tons of opportunities in Central America to help you center yourself.
Depending on how long you've been practicing—maybe you're a complete beginner—you'll be able to find yoga retreats abroad that match your skill level and desired difficulty. If you're looking to get your adrenaline pumping, why are you even looking at yoga retreats abroad? That is the exact opposite of what yoga is for. Come on, son. As far as cost goes, even if you don't have a mat, all you need is yourself! So the money you save on "gear" you can splurge on extra post-practice mango shakes.
Nama-don't-stay-at-home.
6. Multisport adventure trips for you indecisive adventurers (i.e. me)

Uhmmm… Por que no los todos? AM I RIGHT? Why pick ONE adventure abroad when you can have ALL OF THEM?! Take on the world by land, by air, AND by sea. Spend one day hiking, the next biking, then hop in a kayak or canoe and paddle your little heart out. No adventure is too big or too small for you! The whole world is your oyster! Stick a pin anywhere in the map and there's an adventure to be had. Get out there, fellow adventurer. Go. Now. I'm serious.
Next steps to adventure trips abroad
Now that you've narrowed down your adventure-options, here are your next steps to carpe-ing that freaking diem.
You're the next survivor. I certainly wouldn't vote you off the island now that you've read up on adventure trips abroad.
Adventure is out there!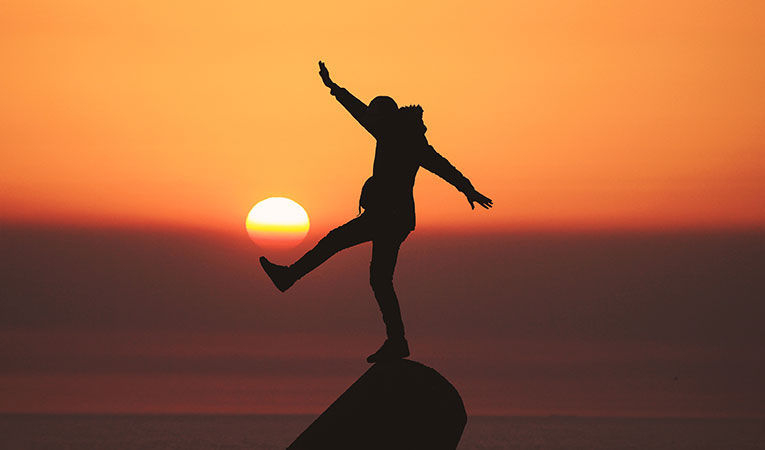 Lace up your boots. Re-apply that sunscreen. Adjust your sunnies. And away you go! There's a big ol' world out there with so much to see and experience. Go out there and start exploring. I don't want to tell you again. Go on. GIT!
Top Providers for Adventure Travel Abroad